Insider Tips For Your Canada Media Fund Applications 💰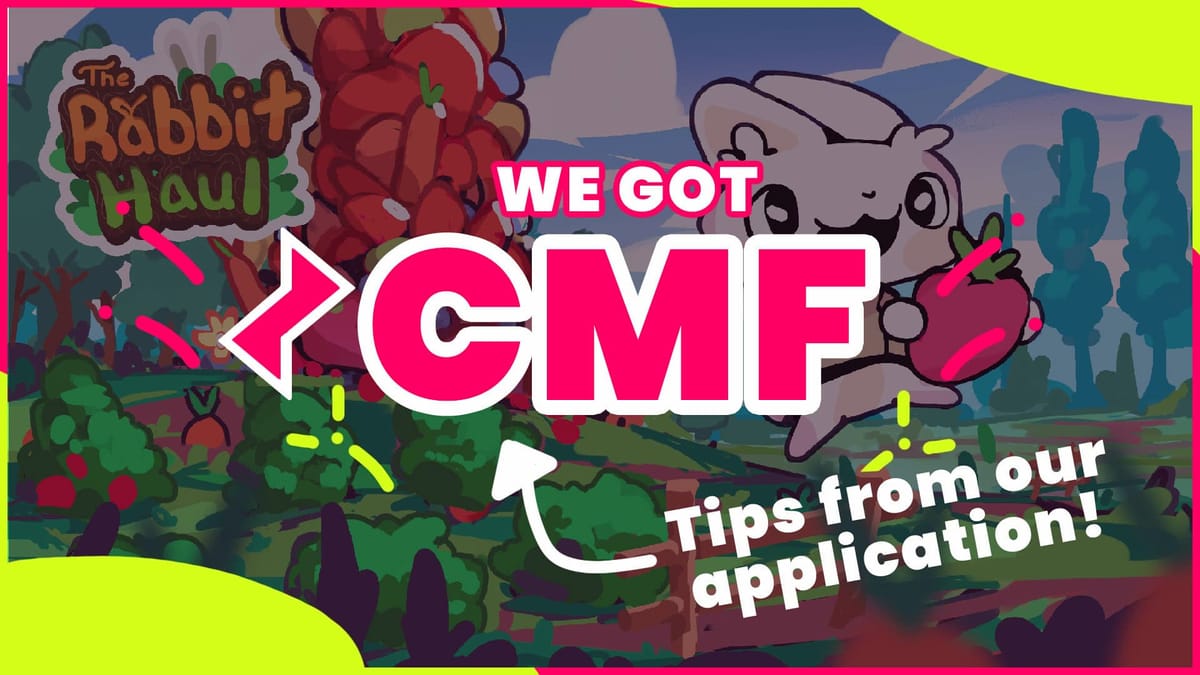 We are back this month with more CMF tips in time for the next prototyping program deadline on October 12!
---
First Things First
Before diving into it, we wanted to celebrate our newsletter's one-year anniversary! We are proud to have committed and maintained this practice despite all the ups and downs that come with making games. That being said, we'd love to know if you had a favourite edition, or if you have ideas for subjects to dig into. Feel free to respond and share with us ❤️
---
Before We Begin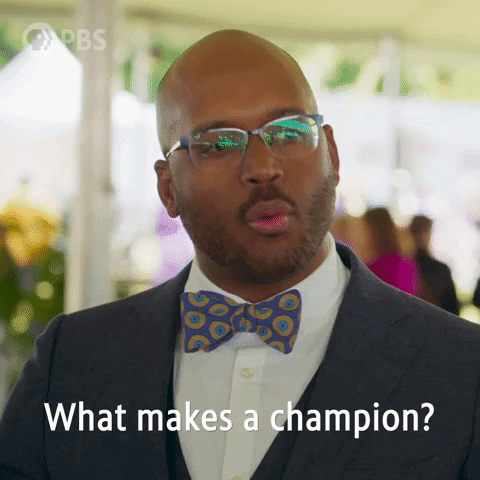 As a reminder for the new subscribers, the CMF (Canada Media Fund) invests in interactive digital media projects like video games at various stages. We've been successful in getting funding from them in the prototyping stream twice now, the latest being for The Rabbit Haul. We learned a ton from this latest application process, and we are sharing some of it with you today! We also recommend you take a look at the program guidelines in order to follow along.
---
1. Making a Champion For Your Game (and Studio)
The CMF selection is a competition, and at the end of the day, you need to make a stronger argument that your game should be funded than the other submissions. The best way to do that is by creating a champion. Even if there is a scoring rubric, CMF analysts are humans so if you can get them excited about your project, your analyst is more likely to champion your project.
The concept is simple, if you can make your analyst respond emotionally to your game or studio, they are more likely to be invested in your success. Therefore, you want to engage them as much as possible and make their work as smooth as possible. For example, The Rabbit Haul has a very cute aesthetic and we submitted beautiful art that showcased this competitive advantage! Click here to see what we submitted to them.
We also had our application reviewed multiple times for content, but also for phrasing and structuring. Don't underestimate the power of well-written documents. For example, we used the evaluation rubric's categories as headers and sud-headers to help with the structure and organization of each document. By making it easy for them to review, we removed pain points that might have made their job more frustrating when it comes to evaluating each rubric.
Furthermore, it's very easy to want to include too many details in your application. This leads to extremely convoluted documents that are very hard to understand. We found that this often happened to us when we wrote something that was still not clear in our minds. To fix this, we had constant reviews and rewrites from each other for weeks before submission. This allowed for multiple occasions to catch spelling mistakes, inconsistent terminology or just very confusing wording. These are all things that might prevent an analyst from becoming your champion. We recommend that you don't wait until the last minute to put your ideas to paper!
Finally, you can also use the team description document to make a champion for your studio! We found that by being very genuine with our experience as a startup studio and highlighting our learnings and how we will apply them to this project responded very well with our analyst. Things don't always (or ever) go according to plan when making games, but it's really important to frame those learnings in such a way that will convince the analyst that your team is the right team for this project because you've made mistakes, and grown from them by putting things in place so that you will not make them again in the future.
Although these review processes are designed to remove subjectivity and bias as much as possible, it is simply impossible to do so. Use that to your advantage!
---
Ask For Help
There are so many game developers out there who are willing to help you, and all you have to do is reach out and ask for help. Everyone who has gone through the CMF application, successfully or not, has different and meaningful advice to give. But, don't just reach out when you need something from them, but rather build a relationship over time. We want to give a shoutout to CEO of Crimson Herring Studios, Isaac Otway, who gave us very valuable feedback on our application! 🙏
There are also people that you can hire that can provide review services as well! If you are looking for someone, we worked with and recommend Amber Scott from indie studio Only By Midnight. She is amazing and helped us elevate our pitch to the next level.
Keep in mind that other developers have gone through the CMF process and they can help you avoid some of the most common pitfalls and mistakes we all make at the beginning. Don't be afraid to reach out to your community!
---
Give Specific Examples
The Originality, Creativity and Advancement section of the application is the most important as it is the document that describes your whole game in five pages or less. We recommend that you give concrete examples of each feature, mechanic or tool, etc. that you propose. For example, in the design elements sub-section, we describe how different towers would work like this:
Each tower has different auto attacks that allow for different tactics. For example, the Destroying Angel Mushroom tower releases clouds of poison as an area of effect that damages and confuses enemies over a period of time. Confused enemies will not be able to attack for a few moments. Additionally, the Jumping Cholla Cactus tower shoots thorns at 360° angles at set intervals when enemies are close; the Gerbera Daisy shoots a powerful laser beam at enemies at a set interval; and many more.
First, we explain the concept that each tower has unique abilities, and then we provide tangible examples that give context. Using flavour text in your descriptions might remind your analyst of a game they love, pique their interest and deepen their understanding of your game. You may also want to include art in your supporting documents that relate directly to the examples you provide.
Here is another example from our application:
The game also highlights and rewards creating symbiotic relationships with other animals. The more relationships formed, the more bonus experience points are rewarded at the end of a run. For example, side-quests help form symbiotic relationships with the quest-giver such as feeding crops to a hawk and it will protect the player at night, giving nuts to a squirrel and it will add crops to the haul periodically and providing a beaver with twigs and branches and it will create defensive barricades.
As a result, our analyst gave us a score of 55/60 for this section. We believe that giving concrete and tangible examples helped us tremendously in obtaining that score.
---
4. Innovation Is Not Necessarily Tech Advancement
Your application must explain how your project is innovative. However, don't make the assumption that you need to make huge technical breakthroughs to be eligible. In fact, for The Rabbit Haul, our strongest argument for innovation was one of genre. We argued that blending the farming cozy experience with elements of tower defence strategy was a novel experience for players. Another strong innovation argument was around theming and the inclusion of an eco-friendly narrative. For the section about the inclusion of innovative technologies, we talked about the inclusion of Twitch streaming integrations and simple procedural content generation tools. In fact, we found that identifying areas of scientific advancement to be ineffective.
Our application for Project Ghost (our previous project) was much more technical focused which made it that much harder for an analyst to champion it. We still got funded, but we had a much lower grade. If our application for The Rabbit Haul had received the same grade that we received for Project Ghost, we would not have secured funding this time. Keep in mind that this is a competition, and if others are putting in very strong applications, you need every point you can get!
---
Final Words
We hope that some of this information is useful to you as you prepare your submission for the October 12th deadline and beyond. Feel free to reach out with any questions, we'd be happy to help if we can. If you are looking for additional tips about the CMF program, you can check out our two other newsletters that offer advice on that subject. Also, August Brown's talk about effectively pitching to publishers was a huge eye-opener for us and it applies to pitching to the CMF as well.
---