Gamescom 2023: Lessons from Our Experience!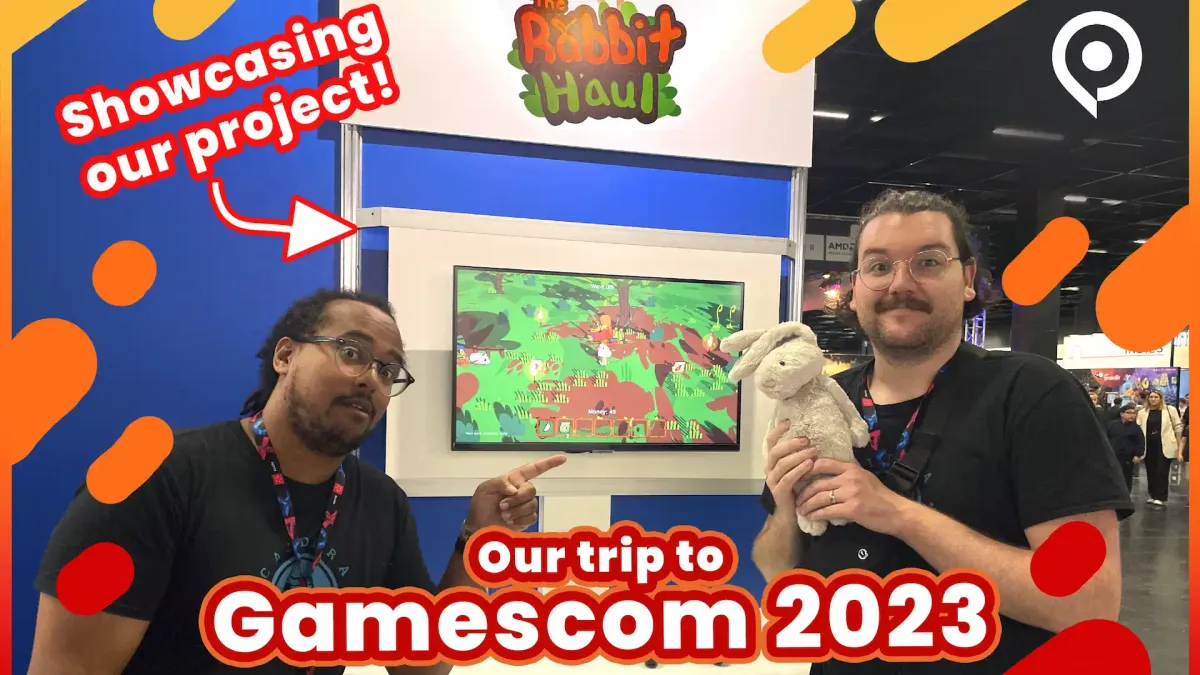 We showcased our game The Rabbit Haul at Gamescom 2023, and we wanted to share a glimpse into our experience!
---
First Things First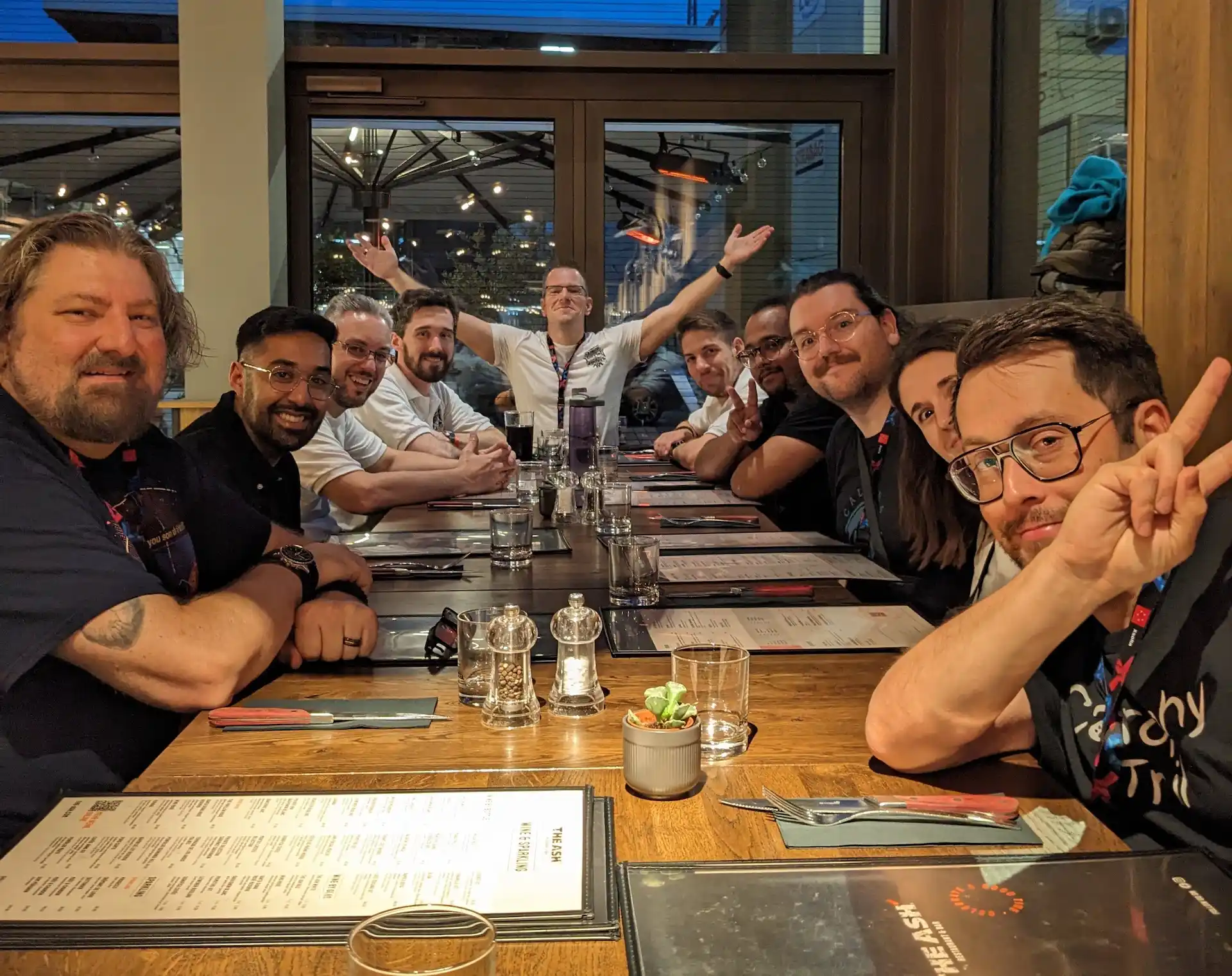 First of all, we want to give a HUGE shoutout to the Edmonton Screen Industries Office (ESIO) for sponsoring this trip for us, as well as the other four Edmonton studios that showcased beside us: Crimson Herring Studios, Itzy Interactive, Occlusional and vrCAVE.
Although we can't argue with the success of our first Gamescom, we really wished we had known a few things ahead of time to be better prepared for this very intense week. We also want to share some advice from our experience, which might be useful if you are planning your first major event! Let's dive right into it.
---
1. Don't Forget the Gamescom Steam Event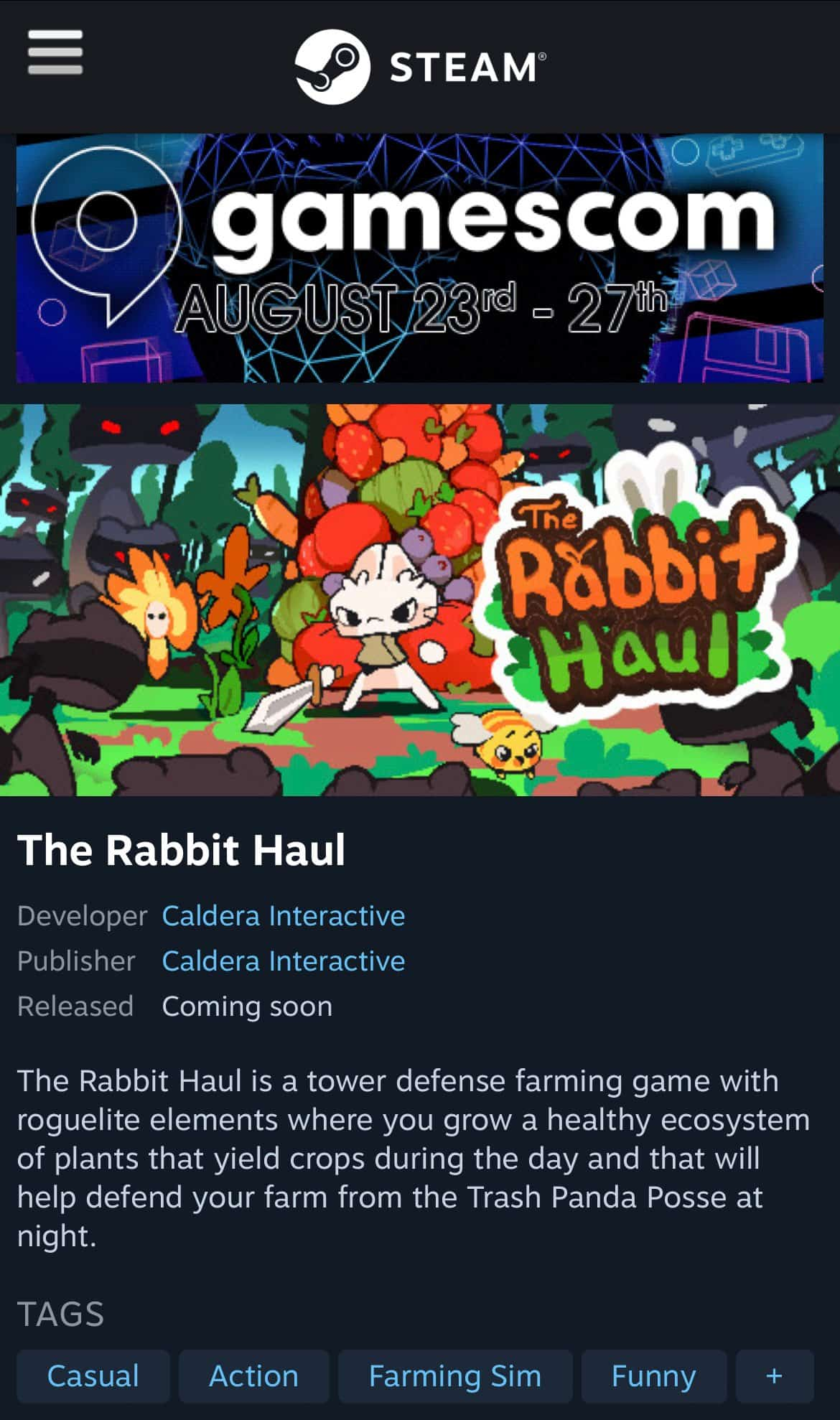 As an exhibitor on the show floor, you can also be featured in the Gamescom Steam event. You have to fill out a form a few weeks before the show, and it is very easy to miss through all the noise. A couple of weeks before the event, you are bombarded with emails with things to do and fill out, and we unfortunately forgot to submit our form on time. Luckily, we were able to get into the event eventually, but we missed the first couple of days of the Steam event. Just being part of the event can net you a lot of new wishlists, which is why it is so important!
---
2. Awesome Indies Direct
As an indie game, you can also submit your game to the Awesome Indies showcase. Make sure you have a demo and a good trailer when submitting to increase your chances of getting in. We heard from a colleague that got in, that the stream had 21K views on the first day it aired. It gave him a TON of traffic and visibility essentially for free!
---
3. Being Nice Goes a Long Way
As a follow-up to the first point about the Steam event, we only got into the Steam event because we asked nicely and acknowledged that we made a mistake by missing the deadline. They allowed us to fill out the form late and added us then. We were told that others had made the same mistake but were very impolite to the organizers and did not get the same chance we did. Remember, organizers are just as stressed and exhausted as you (if not more), and it pays to treat them nicely and respectfully.
---
4. Game Branded Swag
This may or may not apply to you, but if you are showcasing a first game and your studio is not recognizable, you are better off printing swag like t-shirts with the branding of your game than the branding of your studio. People are there to play your game, and you may get more traffic if people can clearly see where your booth is with a single look. You are also a walking billboard, and people might see your logo and make the connection when they see your booth.
---
5. Bring Enough T-shirts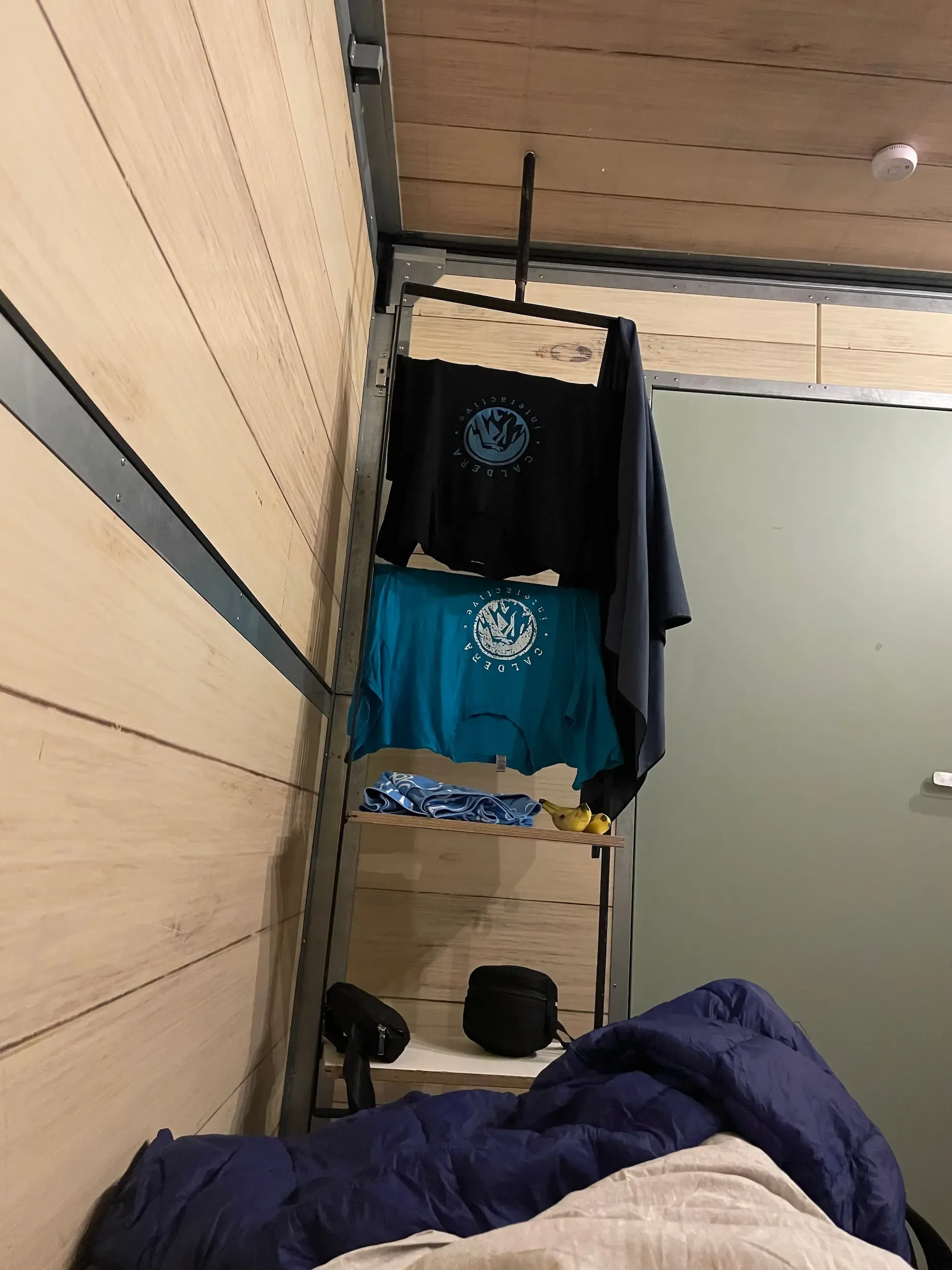 This may sound like a given, but we made the horrible mistake of only bringing 2 company shirts. It got really warm and sweaty on the show floor, and we needed to wash our t-shirts in the sink and hoped it would dry in time in our cabin overnight (more about the cabin below). Don't be like us. It may make for some funny stories, but it is not worth the pain…
---
6. Pace Yourself
Gamescom has hundreds of thousands of foot traffic from 9 a.m. to 8 p.m. for 5 days straight (320K attendees in 2023). It is INTENSE, and you can't get to everybody. You need to look out for yourself and for each other because it is easy to neglect your basic needs. You need to take regular breaks to eat and drink water. You may feel like you can't get away because you might miss an important person coming to your booth, but exhaustion and dehydration really creep up on you suddenly. We've had a couple of close calls where we started feeling unwell and dizzy spontaneously because we were not taking breaks.
Also, there is a business lounge for exhibitors on the show floor. It's a quiet space with cold drinks and snacks. Use it! We learned a couple of days into the event that it existed, so you have been warned. Please use it from the start!
---
7. Supplies
As a follow-up to the previous point, you need to have snacks and water at your booth at all times. You should be proactive in making sure you are eating and drinking consistently throughout the day. Don't wait until you are thirsty or hungry, because you might already be too late.
---
8. Tutorialize Your Demo
As you know, we showcased a very early prototype of our game, and we did not have time to include a tutorial for players to learn the controls and the gameplay by themselves. This meant we had to explain the controls and gameplay to everyone that played our game. This wasted a lot of energy and our voices. You may think this does not have much impact, but when you have to explain the same thing dozens of times for 10 hours straight, you might think differently.
As a bonus to this, you may want to localize your demo to the local language. Although most people spoke English, there were a few interactions where the language barrier made it difficult to explain the game and the controls to players.
---
9. Parties
There are a lot of networking opportunities that occur after hours at parties and such. Depending on your personality and the depth of your social battery, this may be too much for you in a single day. It definitely was for us. If you want to attend those parties fresh and with enough energy to participate meaningfully, you should look into hiring an interpreter for your booth, or bring multiple people for your team to work in shifts.
---
10. Extra Business Cards
We brought 200 cards. We ran through those in 2 days. We quickly realized that people don't always stop to play your game, but they might still be interested in it and take a business card to check it out after the event.
Also, you should have 2 different sets of cards. One with the branding of your game with a link to wishlist or some other call to action of your choice. Then, you should also have business cards that you hand out in business meetings with your name, email and other information.
If you are in a tough spot and must print something locally, we highly recommend checking out Deutz Print Copy Shop. Their prices were reasonable compared to the print shop in the conference center. One caveat: they are cash only. Bring euros!
---
11. Banners and Posters
Make sure you have banners and visuals to attract people to your booth. You really are a salesperson trying to get people to commit to coming to your booth and playing your demo. Standup banners also give you the flexibility to move it according to your needs, which can be good for trying different ways to get visibility. People often stopped by our booth after seeing some of the key art we had printed on our business cards; if we had brought a banner, we could've had more eyeballs on our game.
---
12. Accommodations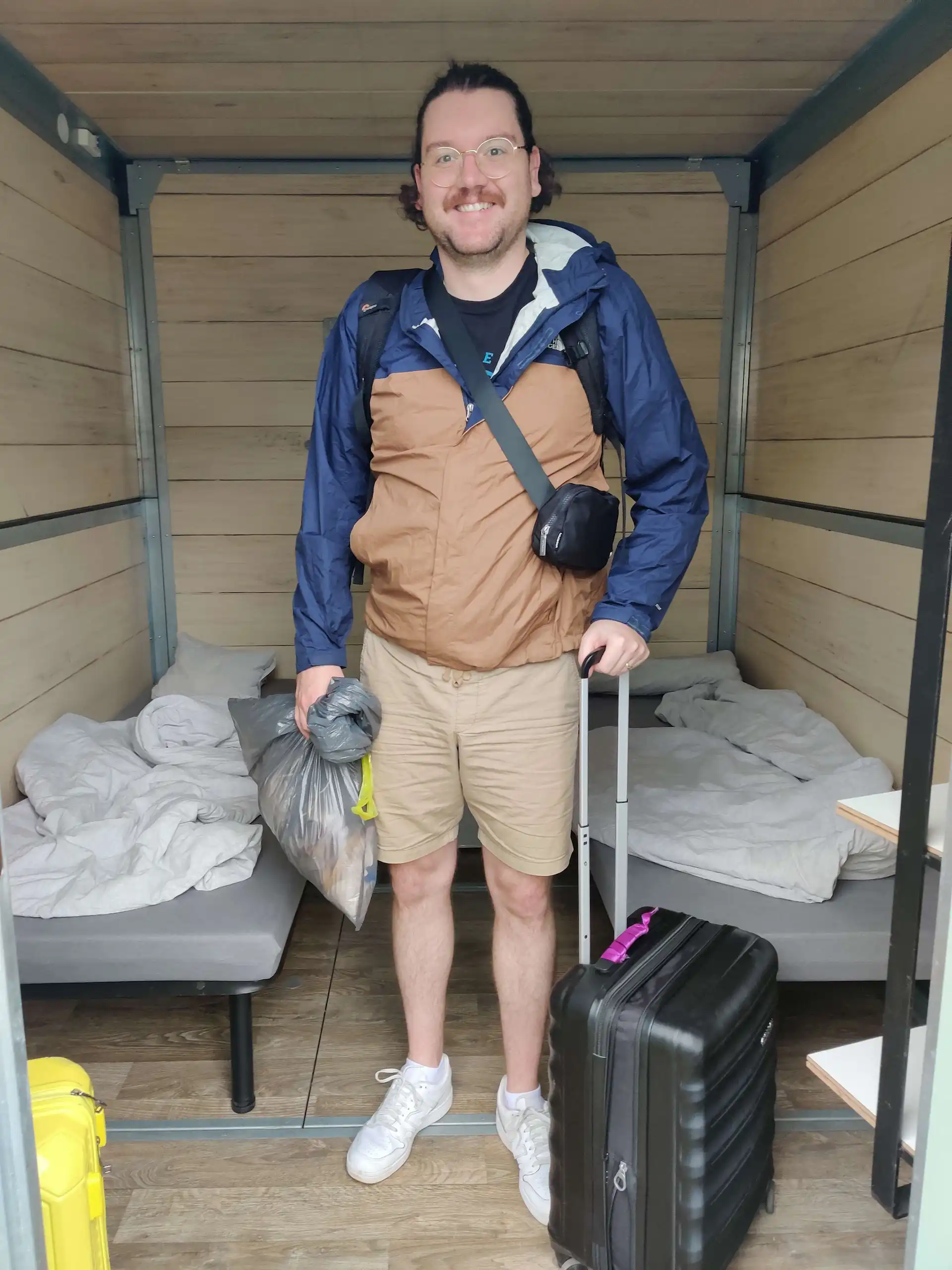 We made the mistake of choosing the cheapest accommodation we could find, which ended up being GamescomCamp. If you were thinking of doing the same, don't do it! We regretted that decision instantly. A comfortable bed after the long show floor days is necessary to recoup and stay fresh for the next day. You also want to stay fairly close to a train station to limit the amount of travel you have to do. We will definitely stay on the west side of the river next time. Also note that your Gamescom exhibitor ticket comes with a city bus pass, so you can look at hotels that are a few train stations away without inflating your travel costs. We really wished we had known that because it was the main reason why we chose the camp since it was so close to the conference center…
PS — Don't let this smile fool you; it is not worth it!
---
13. Engagement and Incentives
Giveaways and high scores are a really high driver of engagement. We've had multiple people come back to our booth to replay so they could obtain a better score. We didn't have a leaderboard, but we will look into something like that next time.
---
Conclusion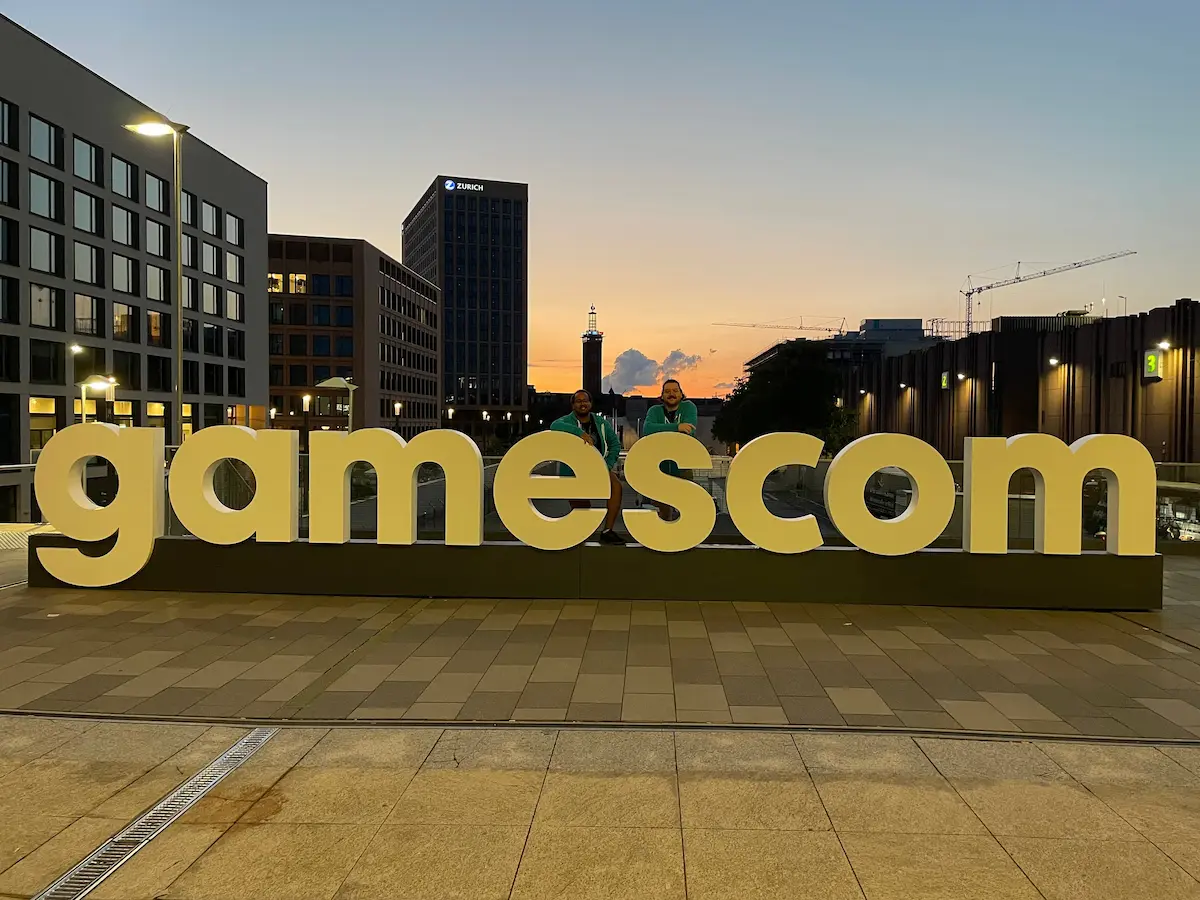 Hopefully our mistakes can help you prepare better.
Jokes aside, Gamescom 2023 was a huge success for our team. We made dozens of connections with industry partners, we pitched to publishers 🤞🤞, and we met hundreds of players from all over the world.
We can't wait for next year! 🚀
---